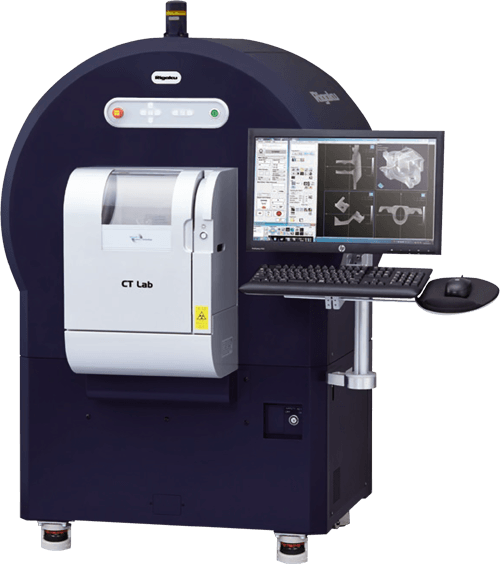 CT Lab GX
Fast scan for time-resolved experiments Easy scan for product inspection Stationary sample bed for easy sample mount
The high-speed and stationary sample bed CT scanner
What is CT Lab GX?
Rigaku CT Lab GX is a micro-CT (computed tomography) scanner. The sample stays stationary as on a medical CT scanner, making it easy to mount samples with a complex shape or ones connected to in-situ devices. The combination of a high-power (90 kV - 8W or 130 kV - 39 W) X-ray source and the compact gantry geometry achieves ultra-fast scans. A CT scan can be completed in 3.9 seconds at the top speed. The high-speed feature opens up the possibility of time-resolved (4D) CT experiments and CT quality inspection.
CT Lab GX features:
3D scan in 3.9 seconds
Simple software interface
Stationary sample bed for easy sample mount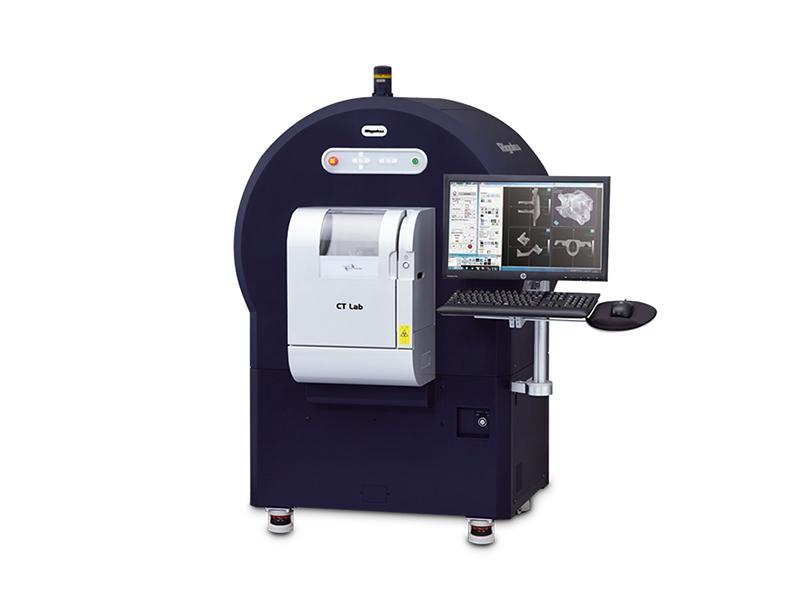 When do I need high-speed?
You can say that the faster, the better when it comes to measurements. But especially when trying to capture a sample change that happens in a certain time period, the scan speed translates to the time resolution of in-situ, time-resolved, or 4D measurements. The high-speed also helps when you have many samples to run in a limited amount of time, for quality inspection or sample image archiving, for example.
Rigaku CT Lab GX can run a CT scan in 3.9 seconds at its top speed. Depending on the required time resolution or throughput, you can adjust the scan speed and image resolution up to an hour.
When do I need the stationary sample bed?
Sample mount can be tricky for CT measurements because you don't want the sample to move during the scan and blur the image, and you might not want the sample holder, glue, or tape to be in the CT image. For in-situ experiments, the sample might be connected to other devices and need to stay still. The stationary sample bed solves all of those problems. On a gantry system, the sample stays still and the X-ray source and detector rotate around the sample. So there is no need to hold the sample or to worry about the sample moving during the scan.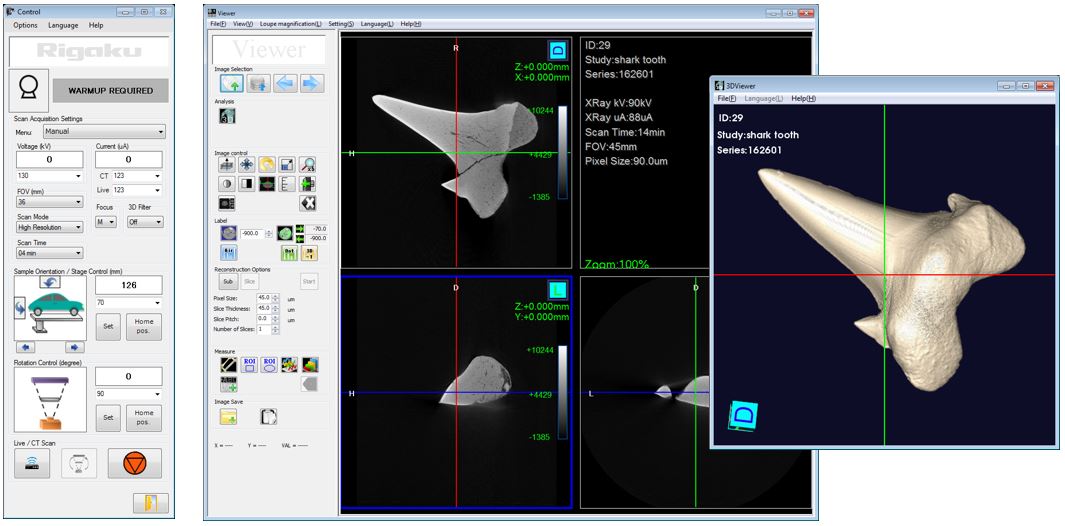 Do I need to be an expert to run CT scans?
No, you don't need to be an expert to run CT scans. Rigaku CT Lab GX has an easy-to-use simple user interface. You can simply select the area you want to image (FOV: field of view), scan time, and start the scan. You will be browsing the reconstructed CT cross-sections and 3D rendering images in less than a minute once the scan completes.
CT Lab GX Specifications
Compare this with other products.
CT Lab GX130
CT Lab GX90
Voxel resolution
4.5 — 144 um
Field of view (FOV)
5 — 72 mm
Maximum sample size
163 mm diameter x 398 mm length
Speed (shortest scan time)
3.9 sec
Geometry
Cone beam gantry geometry
X-ray source
39 W traditional micro source
8 W traditional micro source
X-ray energy
W anode, adjustable applied voltage 30 - 130 kV
W anode, adjustable applied voltage 30 - 90 kV
Detector
Flatpanel
Detector pixel size
49.5 microns
Detector size
2352 x 2944 pixels
Dimensions
1550 (W) x 1535 (H) x 963 (D) mm (PC included)
Weight
Approx. 450 kg
We are here to help you
If you are looking for more information about the CT Lab GX high-speed CT scanner, such as a quotation, installation requirements, etc., please fill out the form and we will get that for you.
If you just have a general question or want to talk to someone, click the button below to book a meeting with one of our experts.