PROCESSED MEAT IN-SITU HEATING EXPERIMENT
About the sample: Processed meat
Meat products processed to improve their taste or shelf life include various components such as fat, protein, air, water, and salt. Their distribution not only can change the taste and texture but also can influence the shelf life. Processed meat products can be sliced and the internal content can be visually inspected. Alternatively, X-ray CT (computed tomography) can be used to reveal three-dimensional structure in micron resolution. The resulting image can be easily segmented into different materials to quantify their characteristics.
Analysis procedure
In this example, a piece of salami was heated up to 200 C and scanned in-situ using a high-speed-CT scanner, CT Lab GX.
The resulting image was segmented into solid and air using the thresholding technique.
The change of the void volume was observed from 30 C to 200 C.
1. CT scan
About half an inch slice of salami was heated up to 200 C. The sample was scanned at different temperatures to produce the 3D grayscale CT image. The sample before and after heating are shown in the figure.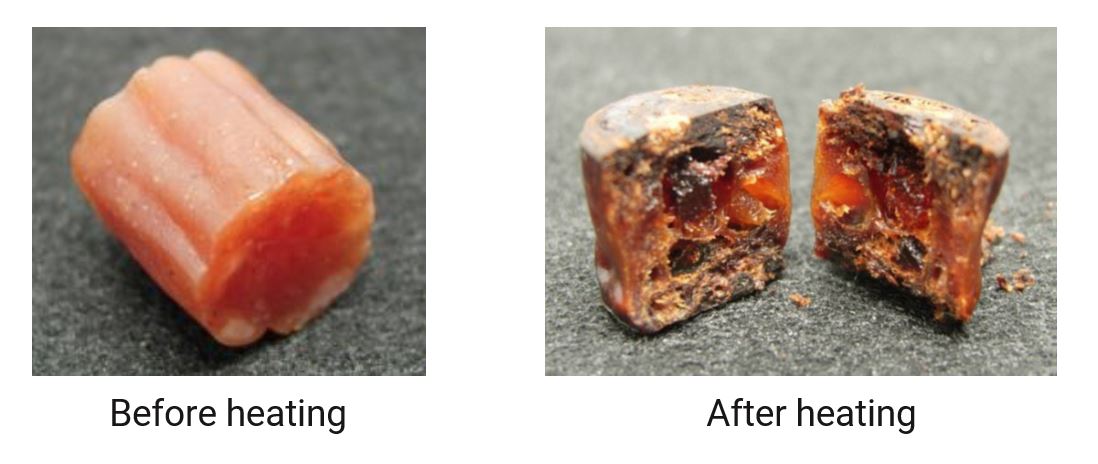 The 3D rendered scans are shown in the figure. The red and cream colors indicate protein and fact components, respectively. At 150 C, voids start to show where fat is and expand at 200 C.

2. Segmentation
The resulting images were segmented into solid (grayscale) and air (blue) by the thresholding method.
3. Volume fraction analysis
The void volume was plotted against the sample temperature. The void volume starts to increase rapidly at 150 C.