Best CT Analysis Software
When starting to use X-ray micro computed tomography (micro-CT), people often ask us which analysis software is the best. Some programs are not cheap, and you don't want to end up purchasing the wrong one.
Read: What is micro-CT?
There are many choices and hundreds of different analysis methods, tools, and modules to consider. The price ranges from $0 (free) to $100K. There are many options, and the cost varies because, just like industrial CT scanners, there is no one-size-fits-all CT analysis software.
The good news is most manufacturers offer a free trial so you can test drive their software. The bad news is the learning curve can be steep and trying multiple products might not be realistic unless learning how to use them all is your job. As it happens, that's kind of my job.
We use a wide variety of free and commercial software to analyze the CT images we produce for our clients in our lab every day. Below is a list of the best CT analysis software we recommend for different needs based on our experience. This is by no means a complete list of all software existing today, but I have tried everything listed here and use some of these programs daily. I hope this will help you choose the right CT analysis software for you.
Best for general materials and life science research
Pros:
Extensive and user-friendly artificial intelligence (machine and deep learning) segmentation tools
Various histogram-based segmentation techniques
Various quantitative analysis tools for materials analysis
Ease-of-use
Can be set up on a server for open access; no special computers required (VizServer)
Extensive selection of tutorial videos
Cons:
Limited dimensional analysis tools
No volume mesh export
Interface: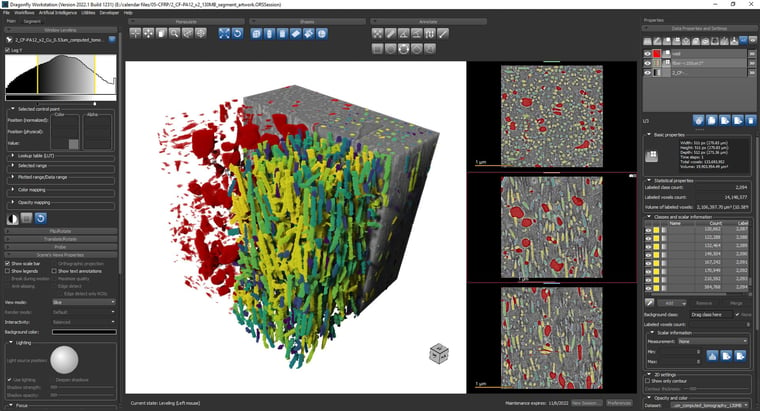 Dragonfly is relatively inexpensive and easy-to-use yet very powerful software. Its segmentation wizard makes deep learning image segmentation accessible to beginners and often eliminates the headaches associated with complex image segmentation. You don't need to know the nuts and bolts of how these artificial intelligence-based segmentation algorithms work to use them. But if you are familiar with them, you can customize detailed settings or load your own network.
This tool has been a lifesaver for us when facing challenging segmentation tasks for materials and life science samples.
You can use Dragonfly for most materials science and life science applications, such as analyses of phase volume ratio, grain size distribution, fiber orientation, porosity, pore network, coating thickness, etc. It interfaces with Open PNM for pore network analysis. Bone analysis tools are also available as an add-on module.
Read: CT Analysis Software Product Review: Dragonfly by ORS
Watch Rigaku Dragonfly workshop Part 1 and Part 2
Watch Dragonfly Daily webinars
Best for metrology / dimensional analysis
Price: Medium to high, node-locked, dongle-based, and various floating licenses
Free trial: Available
Required skill level: Medium for simple dimensional analysis, high for materials analysis, reporting, and automation (Requires formal training)
Pros:
GD&T analysis fully supported
Nominal (CAD drawing) vs. actual (CT) comparison
A wide variety of materials analysis modules
Extensive selection of automation tools for process control
Volume mesh export supported
Cons:
Interface: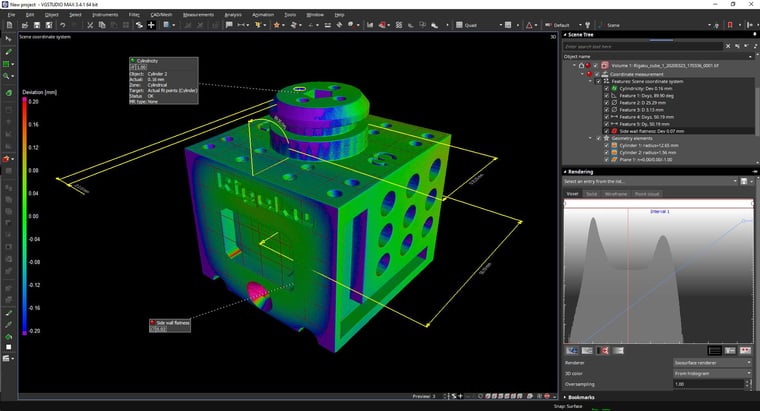 VG STUDIO uses a sophisticated ISO-50 surface determination. It is the de-facto industry standard for metrology applications, such as geometric dimensioning and tolerancing (GD&T) analysis or nominal (CAD) versus actual (CT) comparison. Their algorithms have been tested and verified by PTB (Physikalisch-Technische Bundesanstalt) and NIST (National Institute of Standards and Technology).
You can run simulations such as Von Mises stress distribution. You can also export the defined objects as a volume mesh for further investigation, such as finite element analysis. The defined volumes can be converted into a CAD drawing for reverse engineering. They also have comprehensive automation packages for process control.
Watch VG STUDIO webinars
Best for data management and FDA regulations
Price: Medium, depends on the storage size, subscription-base license
Free trial: Inquire
Required skill level: Low for data management, medium for data analysis
Pros:
Accessible from anywhere; no special computers required
Comprehensive data storage and management service
Artificial intelligence (machine learning) segmentation tools
Specialized analysis for drug and rock analyses
Cons:
No perpetual license
Somewhat limited interface flexibility
Interface: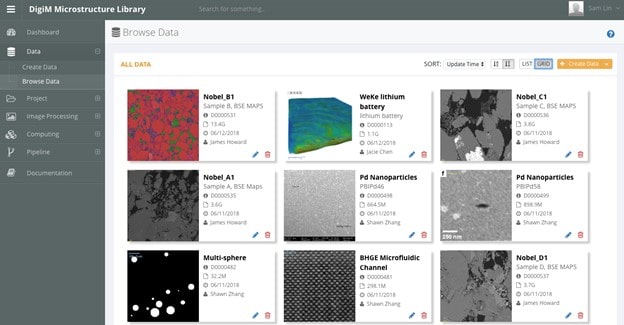 If you don't want to deal with the maintenance of expensive computers and prefer an entirely cloud-based solution, or you need to manage—and even audit—a large amount of CT data, DigiM I2S might be the best choice. DigiM offers data storage and management services to store and archive hundreds of terabytes of data stress-free.
Read: How Should I Manage Tomography Data?
Best for simulations
Price: High, academic discount available, flexible floating license
Free trial: Available
Required skill level: High
Pros:
Segmentation and object separation optimized for specific types of materials (fiber, rocks, batteries, etc.)
Artificial intelligence (machine and deep learning) based segmentation tools
A wide variety of physical property simulation tools for virtual experiments (filter airflow, rock permeability, battery charging profiles, etc.)
Fully transparent algorithms
Cons:
Steep learning curve
Slow data 3D rendering display for large data files
Cost
Interface: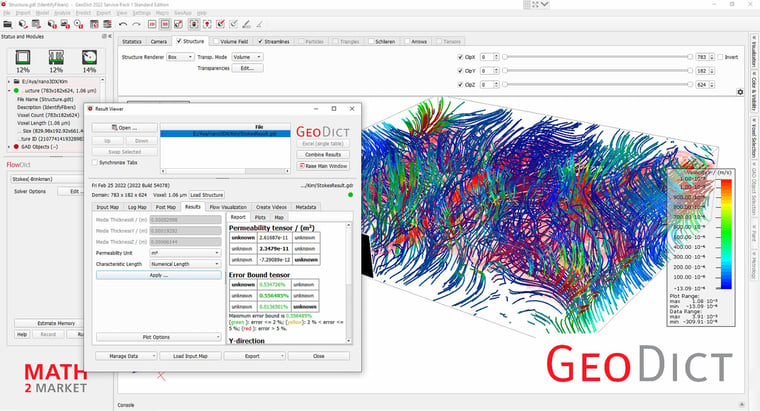 Suppose your goal is to run virtual experiments and test filter air flow, rock permeability, battery charging performance, etc., using X-ray CT images. In that case, GeoDict is probably the best and all-in-one solution. You can optimize the segmentation settings based on other non-CT properties known from how the material was designed and manufactured. The properties of the flow materials and particles can be fully customized to simulate the lifetime of filters, batteries, etc. Porosimetry and permeability simulations on rocks are also available.
Despite the complexity of this tool, it is not a black box. The theories and algorithms used in the simulation are fully documented in the manual.
Watch GeoDict tutorial workshops
Most comprehensive
Price: Medium to high
Free trial: Available
Required skill level: High
Pros:
All-in-one solution, including advanced segmentation, materials analysis, metrology, simulation, and automation
Long history and large user base
Highly flexible settings of image processing and ROI (region of interest) manipulation
Artificial intelligence (machine and deep learning) segmentation tools
Various histogram-based segmentation techniques
Various quantitative analysis tools for materials analysis
Metrology tools
Simulation tools
Cons:
Interface: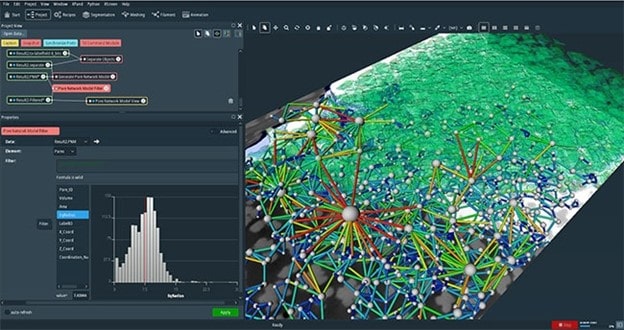 AVIZO probably covers the widest area of CT applications, AI-based segmentation, materials analysis, metrology, simulation, and automation. It is flexible and allows detailed control of the image processing, ROI (region of interest) manipulation, and entire analysis process.
Its versatility and flexibility are part of why its learning curve is steep. But suppose you are looking for a tool that covers various needs and can be customized to do CT image analysis in the exact way you want that can automate the entire process for quality or process control. In that case, AVIZO might be a good fit for you.
Best free software
Price: Free
Required skill level: Low
Pros:
Cons:
Limited utilization of GPU
Limited 3D rendering view options
Interface: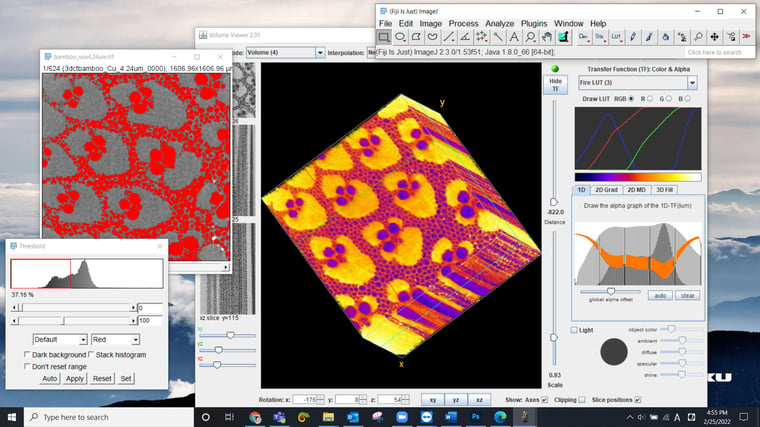 Fiji is a distribution of ImageJ. It is one of the most widely used image analysis tools in the science community. It's geared more toward 2D image analysis, but you can certainly use it for 3D CT data analysis.
Watch ImageJ workshop Part 1 and Part 2
Check out the new image processing workshop series using ImageJ
Price: Free
Required skill level: Low
Pros:
Full 3D rendering display
Various segmentation and ROI (

region of interest

) refinement tools
GPU supported
Cons:
Limited tutorial materials
Interface: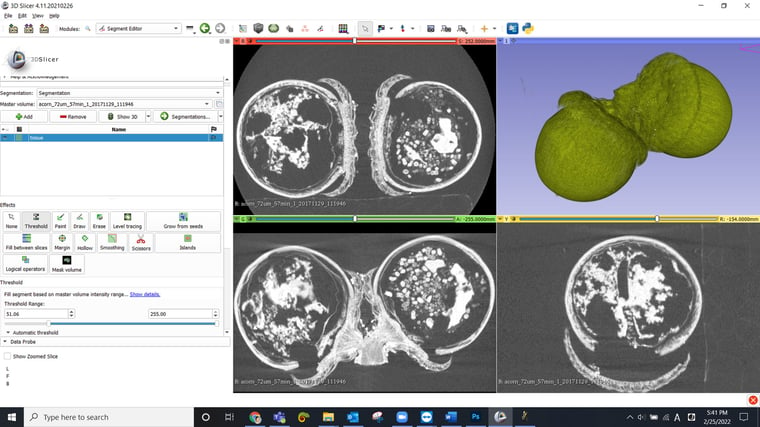 I have limited experience with 3D Slicer, but this is the free fully CT optimized analysis software I hear about the most.
Watch 3D Slicer tutorial videos
For more free options, I would recommend the excellent blog article by Dr. Peter Falkingham, Reader in Vertebrate Biology at Liverpool John Moores University, about free CT segmentation software.
What should I do now?
Selecting CT analysis software can be a significant investment decision. Some tools cost more than $10K and require a $5K workstation to run. You will also have to invest a lot of time learning how to use these tools. I recommend you get at least a demo before purchasing CT analysis software and get a free trial version if possible.
If you are new to CT image analysis, evaluating these demos and free trials might be like test-driving a car without knowing how to drive. If that's the case, this article "How to Get Started with CT Image Analysis in 3 Steps" might help you learn what you need to know before evaluating analysis software.
I hope this article will help you enjoy finding your best CT analysis software. If you don't know where to start, our team of application scientists can help you choose the right software for your research needs. You can talk to one of our CT experts by clicking the "Talk to an expert" button at the right top of the page or send us a message at imaging@rigaku.com.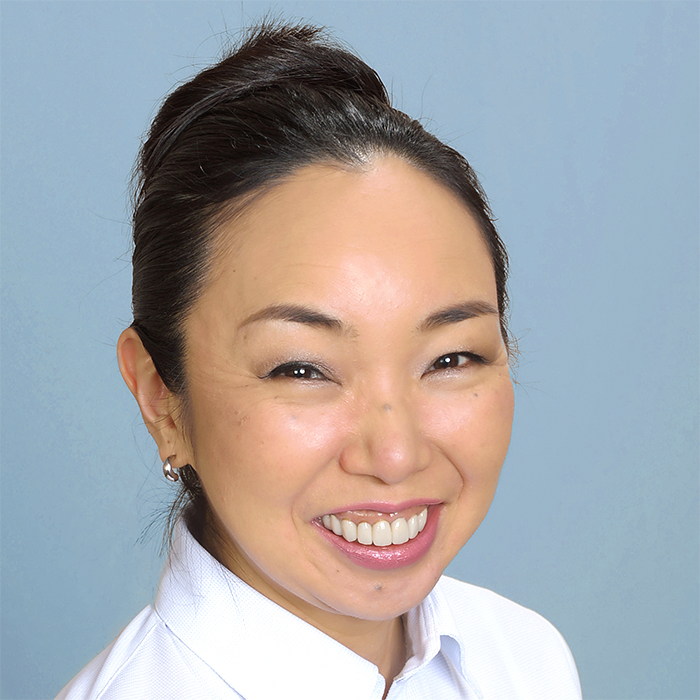 Head of Global Marketing at Rigaku. Aya holds a PhD in engineering from Osaka University and an MA in physics from Tokyo University of Science and has been with Rigaku for 25 years. She started in the X-ray Diffraction Application Lab and transitioned to X-ray Imaging in 2017. She now focuses on providing educational and helpful content for X-ray users. Her goal: Help non-expert X-ray users achieve expert results with less time and effort. She has worked on many projects designing automated and user-friendly X-ray instruments and analysis software. She is very passionate about helping people learn more about X-rays and working with X-ray users to solve their specific problems.